Range of Phones Available
Selection of Phones and Headsets
Handsets, Cordless Phones and Headsets
We have a wide variety of handsets available to suit any need. From simple emergency phones with few features to phones that support all of the features including video. We have desktop phones that use wireless so that you can plonk them down anywhere, plug them in and you have a portable handset.
These are our most popular, but call us if you need something special like a phone for your conference table.
T48G Desktop or Wall Mount Handset.
The T48G is Yealink's most recent innovative IP Phone for a fast-changing world.Designed specifically for both local and international use by business, industry and commerce, it incorporates a large touch panel that makes switching between different screens and applications swift, easy and convenient. Yealink's Optima HD technology very carefully creates the impression that you are sitting virtually face-to-face opposite the person at the other end of the call. The T48G is also built for the Gigabit Ethernet and facilitates very rapid call handling and the application of accessories such as a Bluetooth USB Dongle and a Wi-Fi USB Dongle. The new IP Phone supports impressive productivity-enhancing features too which make it the natural and obvious efficiency tool for today's busy executives and professionals.
7″ 800 x 480-pixel color touch screen with backlight and 24 bit color depth
29 Touch Screen Programmable Keys with paging
Wireless Bluetooth Headset
Wired Headset
Hands Free Speakerphone
One-touch speed dial, redial
Call transfer
Call hold
Call return
Mute
DND
3-way conference call
Local Phone Book with up to 1,000 entries
Message Waiting Indicator (MWI)
Voice mail
Call park
Call pickup
Intercom
Paging
Music on hold
Gigabit Ethernet
POE (No plug in power supply required)
Built in USB Support
Supports Expansion Modules
Wall Mountable
T46U Desktop or Wall Mount Handset.
Designed for busy executives and professional, the SIP-T46U IP phone is an ultimate communication tool that has the better overall performance. The phone employs an appealing high-resolution TFT color display that looks brighter and more vibrant. United Yealink Optima HD Voice technology and wideband codec of Opus, the T46U awards you the superb audio quality and crystal-clear voice communications. Moreover, the T46U puts dual USB ports in a phone that makes Bluetooth, Wi-Fi, USB headset, and USB recording come true, and you can use any two of them freely according to your needs. The Yealink new T4U series offers the same elegant appearance as the T4 line, but with improvements for greater interoperability and better collaboration.
4.3″ 480 x 272-pixel color display with backlight
Opus codec support
Dual USB ports
Up to 16 SIP accounts
Dual-port Gigabit Ethernet
PoE support
 
USB headset and EHS support
Wi-Fi via WF40/WF50
Bluetooth via BT40/BT41
USB recording
Supports color-screen
Expansion modules
Stand with two adjustable angles
Wall mountable
This Cordless Phone System is designed for small business and looking for a cost-effective and scalable mobile communications system.
The W52P combines the freedom of wireless communication with business features usually reserved for desk phones, such as intercom, transfer, call forward, 3-way conferencing, and the option to use a power supply or power over Ethernet.
The W52P includes:
1 DECT Base
1 Handset
1 Handset Charger.
Additional handsets up to 4 per base station can be purchased separately
Features
Exceptional HD sound with wideband technology
Up to 4 simultaneous external calls
Up to 4 DECT cordless handsets
1.8″ color display with intuitive user interface
10 hours talk time, 100 hours standby time
Integrated PoE (Class 1)
Range of up to 150 feet indoors and 900 feet outdoors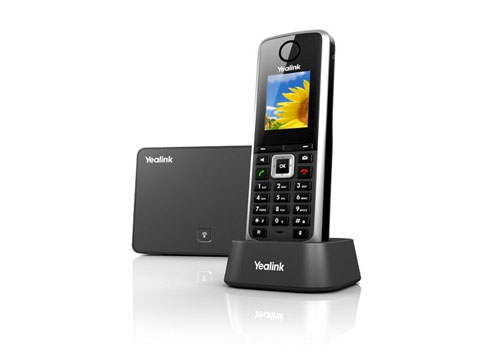 Earbud headset. 
Hands free with a boom mike. Perfect if you do not want to wear anything over your head. Comes with a single earpiece over the headset adapter if you prefer a headset.

Over The Head Headset with a single Head Phone. 
Great when you want to be able to hear the phone conversation and  sounds around you.

Over The Head Headset with a Dual Head phone. 
Great for call centers or other noisy environments where the headset can block out background noise.
Save money and improve your communications. Click to Contact us or call us on 770-929-1155 to get more information or an assessment of your current system.