Range of Phones Available
Wide Range of Phones and Headsets
Handsets, Cordless Phones and Headsets
We have a wide variety of handsets available to suit any need. From simple emergency phones with few features to phones that support all of the features including video. We have desktop phones that use wireless so that you can plonk them down anywhere, plug them in and you have a portable handset.
These are our most popular, but call us if you need something special like a phone for your conference table.
Noise cancelling microphone and handsfree operation.
Professional directional goose neck microphone provides high definition and with low noise
Receptionist's Phone is a visualization paging console phone for a busy receptionist. It is equipped with a gooseneck microphone and supports HD hands-free calling.
With intelligent programmable DSS buttons, you can set up a one-click call function to improve communication efficiency.
It is compatible with the standard SIP protocol and can be used as a monitoring center or host for for intercom systems and paging. Make internal and external calls, two-way intercom, monitoring, and broadcasting.
The programable buttons on the side panels makes answering, transferring and parking calls efficient and fast.
The Receptionist Phone improves management efficiency and emergency response capabilities.
Optimized Android Operation System
Android 9.0 OS in the Executive Phone supports greater compatibility and more powerful functions.
Great sound pickup and loudspeaker makes this a good conference phone. Wide angle camera available for Video
Movable icons on interface provide direct access to frequently used functions.
Intelligent touch full keypad with icons.
As a high-end enterprise IP phone with Android 9.0 OS, The Executive Telephone provides a more intelligent and smoother touch operation experience for users.
Supports standard Android Functions like Email, Web Browser, Calculator, Calendar etc.
112 DSS keys on the 7-inch color touch screen, built-in WiFi and built-in Bluetooth make daily communications smarter and simpler.
A matching optional USB camera (Sold Separately) can deliver a superb audio and video for group conferencing.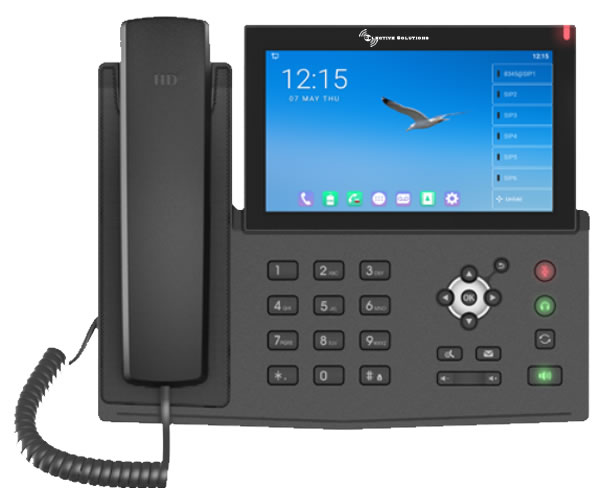 Managers Desktop Phone
Elegant Design, Easy Operation
Housing a more intuitive design with a 4.3-inch 480×272 color LCD, two 2.4-inch color side LCDs and 5 line keys with LED light, the Receptionist Phone provides a more user-friendly feature customization.
Featuring three color displays, newly added line keys with LED light and built-in Bluetooth,
The Managers Phone provides an easy to use user interface, offering greater flexibility and productivity, to match the different demands of business.
With Harman speaker and a wideband codec of G.722 and Opus, this device delivers an immersive HD audio experience in both high band and low band audio quality.
While this Handset with it's larger display and 65 programable buttons is ideal for receptionists, it also makes a great desktop phone for any user.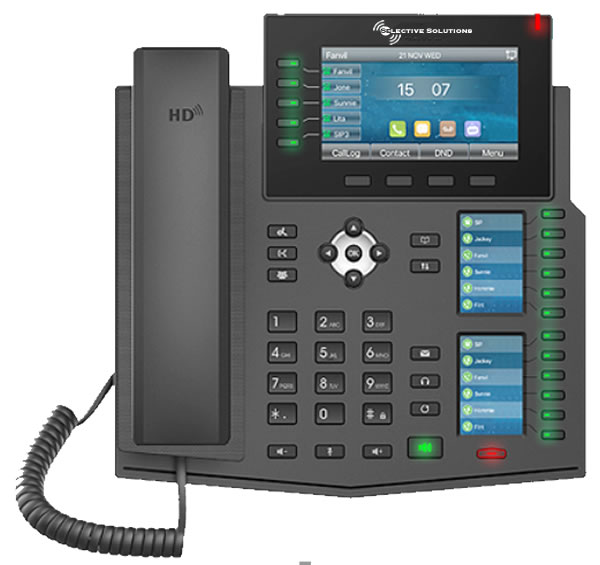 Desktop Phone
Elegant Design, Easy Operation
Housing a more intuitive design with a 3.5-inch color LCD, a 2.4-inch color side LCD and 4 line keys with LED light, the Desktop Phone provides and easy to use interface..
Two color displays and newly added line keys with LED light, this phone provides the a uswer friendly interface offering greater flexibility, productivity to match the different demands of businesses.
The Harman speaker and wide band codec of G.722 and Opus in this device deliver an immersive HD audio experience in both high band and low band audio.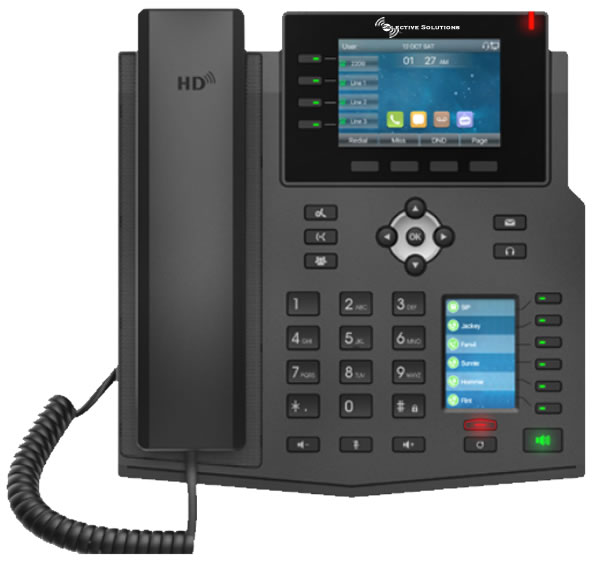 Utility Phone.
Housing a straightforward design with a HD 2.8-inch 320×240 color display, Our Utility Phone provides a easy interface.
As an ideal cost-effective Gigabit IP phone, our Utility Phone provides a simple interface with a high-resolution color display.
A wideband codec of G.722 and Opus delivers you an immersive HD audio experience in both high band and low band audio.
An inexpensive phone for warehouses, passageways where easy access to a phone is required.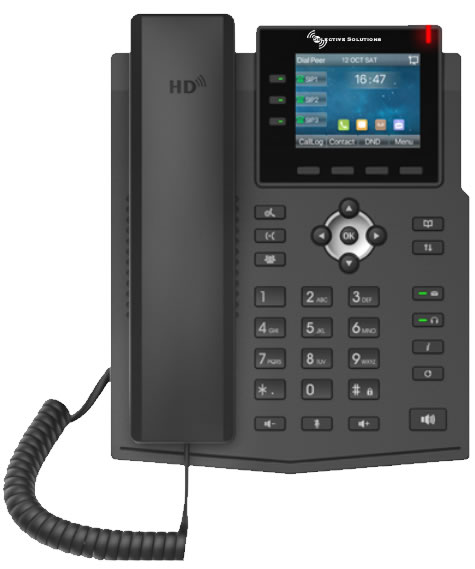 This Cordless Phone System is designed for small business and looking for a cost-effective and scalable mobile communications system.
The W52P combines the freedom of wireless communication with business features usually reserved for desk phones, such as intercom, transfer, call forward, 3-way conferencing, and the option to use a power supply or power over Ethernet.
The W52P includes:
1 DECT Base
1 Handset
1 Handset Charger.
Additional handsets up to 4 per base station can be purchased separately
Features
Exceptional HD sound with wideband technology
Up to 4 simultaneous external calls
Up to 4 DECT cordless handsets
1.8″ color display with intuitive user interface
10 hours talk time, 100 hours standby time
Integrated PoE (Class 1)
Range of up to 150 feet indoors and 900 feet outdoors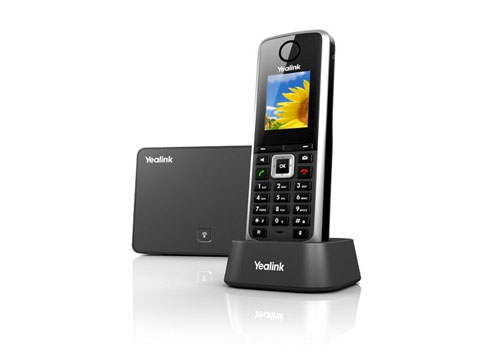 Earbud headset. 
Hands free with a boom mike. Perfect if you do not want to wear anything over your head. Comes with a single earpiece over the headset adapter if you prefer a headset.

Over The Head Headset with a single Head Phone. 
Great when you want to be able to hear the phone conversation and  sounds around you.

Over The Head Headset with a Dual Head phone. 
Great for call centers or other noisy environments where the headset can block out background noise.
Save money and improve your communications. Click to Contact us or call us on 770-929-1155 to get more information or an assessment of your current system.